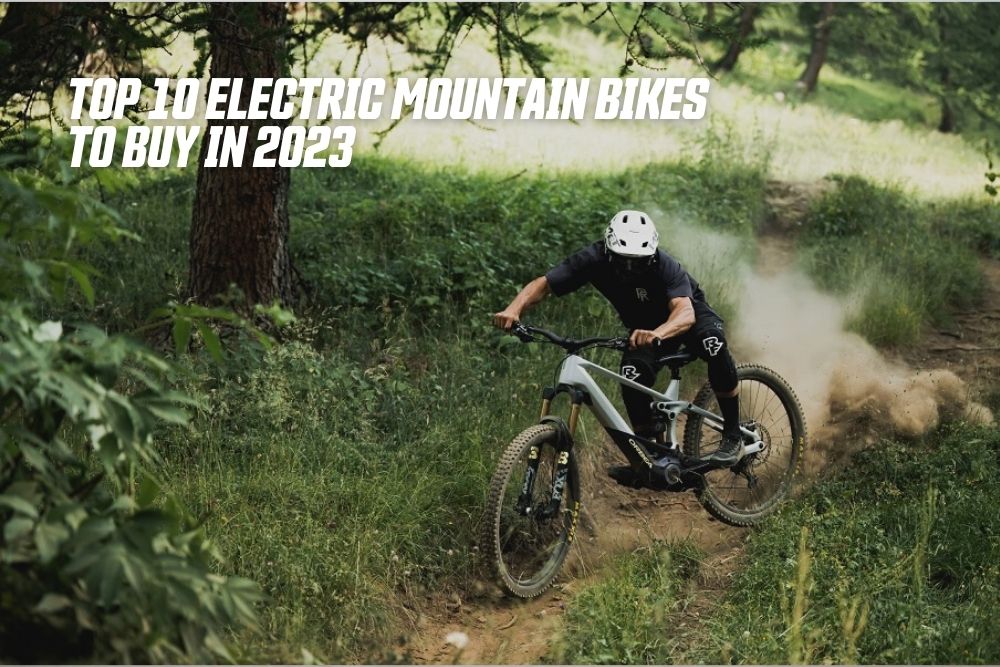 Top 10 Electric Mountain Bikes to buy in 2023
By Ben Mowbray |
Its a new model year and already, with component supply finally easing, model year 2023 electric bikes have been landing in dealerships around the world over the last couple of months - but which ones are the best?  
Which is the best 2023 electric mountain bike? 
Narrowing down our huge selection of 2023 electric mountain bikes was no easy task. There's a lot to consider and regardless of what any one person, magazine or otherwise says, there just isn't a "one size fits all" answer to "what is the best electric mountain bike" in 2023 or any other model year. If everyone is unique, there can't be one bike to rule them all! 
Instead, we're going to take a look at what makes a good electric mountain bike stand out. Motors, batteries, group sets, suspension specification and overall value are all under the microscope.

2023 eBike Motors.
As a crank drive specialist retailer dealing solely in the supply of European maufacturered electric bikes, our showroom is dominated by 3 manufacturers. These three have been chosen specifically for their class leading power output, versatility, reliability and just as importantly - their globally recognised support, spares and aftersales network. 
Bosch
Last year saw the launch of their brand new "Smart System" product ecosystem and this year, Bosch have really ramped things up with a host of new technology including "over the air" software updates, new displays and Bluetooth integration. On mountain bikes its rare to find anything other than the Bosch Generation 4 Performance CX motor and this year the range extends with their new Limited Edition CX-R or "Race" motor. Their top performing motor with 85Nm on tap and their own coveted "eMTB mode", this ordinary Gen 4 CX is one of the most widely used in mountain biking worldwide and features on our Orbea, Cube, Scott and Haibike model ranges. 
Yamaha
Yamaha haven't really changed much in the last couple of years. There are a few new motors in the form of the PWX2 and PWX3 which for the first time puts their power outputs on par with Bosch. There are also a couple of new displays, but for the most part, Yamaha have been content with pumping out their same super reliable and "no fuss" systems. Every bit as reliable as their main competitor above, Yamaha continue to dominate their section of the market,  most notably on our 2023 Haibike models.
Shimano
The all-too-often overlooked motor manufacturer, Shimano have been quietly developing their systems over the last couple of years and their latest EP6 and EP8 motors are every bit as good as the Bosch Generation 4 system. Sadly, they don't produce as many units as Bosch and Yamaha and its not a motor for everyone. Orbea's RS version targets those who already have a good degree of base fitness in order to reward them for being more efficient with the way they ride, they feature heavily in the super lightweight category, allowing manufacturers to build bikes which defy the normal conceptions of eMTB physics and enabling the creation of sub 16kg bikes. 

2023 electric bike batteries.
Batteries come in all shapes and sizes. Our smallest mountain bike version can be found on the 2023 Orbea Rise lightweight ebike range and are just 360Wh. The crown for the biggest currently rests on the head of Bosch, who offer a huge 750Wh option on many of the new 2023 electric mountain bikes like the 2023 Cube Stereo model range, along with much of the new 2023 Orbea Wild range. 
Again, which is "best" is subjective. The 360Wh battery found in the new Orbea Rise models is capable of around 40 miles of assisted riding. The Bosch 750Wh is "rated" for up to 160 miles but we know that in practice, most riders are tearing around in Turbo mode and seeing between 40 and 60 miles in most cases. 
With the average mountain bike ride lasting less than 40 miles, both of these options will normally see out the whole of a riding day for most riders and a bike shouldn't be chosen on the size of its battery alone.  

2023 Electric mountain bike group sets. 
The most commonly found group sets on 2023 mountain bikes are made by Shimano and SRAM. From Shimano, these will mostly be coming in XTR, XT and SLX flavours with a couple of Deore options thrown in for good measure. From SRAM, we'll be seeing much more of the Eagle SX/NX/GX as well as X01 X1 and XX1 systems and an increased use of their AXS electronic shifting system. 
Shimano and SRAM are both leaders in their industry and produce great quality braking and gear shifting systems jointly owning more than 65% of the global trade of these components. 
Well known for their wide range of fitment options, ease of servicing, availability of spares, pro-proven performance and outstanding reliability, these two manufacturers are the only two you'll find listed on our top 10 2023 electric mountain bikes. 

2023 electric mountain bike suspension.
Getting up and down your favourite trail or mountain is much easier with the right amount of suspension travel. Head out under-sprung and you'll find yourself bottoming out on every drop and landing. Pedal around over-sprung and you'll be wasting effort as well as draining unnecessary battery power. 
Our top 10 2023 electric mountain bikes in this article heavily feature components from Fox and Rockshox. Much like Shimano and SRAM, these two suspension power-players supply the components for every type of rider from novice to world stage pro. 
Many riders have their own brand preference but set up well, either will provide you with the performance you need to make it up and down your favourite route with confidence inspiring grip and handling. 

How we judged the top 10 electric mountain bikes to buy in 2023.
As well as considering the type of components fitted to the bikes in this article, deciding whether they're worthy of a spot on the list of top 10 electric mountain bikes to buy in 2023 also comes down to value. "Does the bike offer the customer good overall value for money"? Sure, slapping a £14,000 price tag on a bike with swanky components works for manufacturers, but does that work for the customer and could they get a bike with the same performance for less money from another brand? 
This is perhaps the most difficult question of all and requires breaking the bike down into its component parts and assessing them against the use case of the bike and the type of rider who might be buying them. 
E-Bikeshop's Top 10 Electric Mountain Bikes to buy in 2023. 
Narrowed down by our team of electric bike experts and offered in no particular order because we just couldnt decide, the Top 10 Electric Mountain Bikes to buy in 2023 from E-Bikeshop have been chosen based on their specification, componentry, design and overall value proposition. For each, we offer an alternative lower priced option for those who need less bells and whistles from their new eMTB. 
Orbea Rise M-Ltd 2023
The 2023 Orbea Rise M-Ltd is the very definition of total balance in power and weight. Tipping the scales at at little as 15.9kg and offered in 4 sizes and 2 colourways as well as a "MyO" custom paint and specification option (contact us or visit Orbea to find out more). Suspended by the very latest top tier Fox Factory equipment, driven and stopped by a complete Shimano XTR group set and powered by the exceptionally well renowned "RS Tuned" Shimano EP8 motor, the Rise M-Ltd has been the lightweight to beat on the trails since it launched a little over 2 years ago and retails at £9,999. 
Learn more about the 2023 Orbea Rise M-Ltd on the product page on our website. If the M-Ltd is too much bike for you or your trails, there are lots of other 2023 Orbea Rise model options available. 

Scott Patron eRIDE 900 Ultimate 2023
Is there was a Rolls Royce of eMTB, the 2023 Scott Patron eRIDE 900 Ultimate would be it. Everything about this bike, from its brand new Bosch Performance CX-R "Race" motor to its Kashima coated Fox Factory suspension, Shimano Brakes to its top end SRAM XX1 wireless electric shifting group set screams nothing but the very best in performance componentry. Imagine walking into the worlds biggest bicycle component warehouse and plucking every part you need from the very top shelves - this is the bike you would have created. At £11,999 it's the most expensive on this list, but boy does it command it. 
Check out why on the 2023 Scott Patron eRIDE 900 Ultimate product page, or alternatively, take a look at its marginally lower spec siblings in the 2023 Scott Patron eRIDE range.  

Scott Lumen eRIDE 900 2023 
Another Scott, this time in a totally different package. Their first entry to the super-lightweight world of EMTB, the new 2023 Scott Lumen eRIDE 900 takes the worlds fastest XC/Trail frame of the Spark, and electrifies it. The brand new TQ Systems HPR 50 motor and 360Wh battery, Fox suspension, Shimano XT brakes and a wireless electronic shifting system in the form of the SRAM GX set up make this a super quick trail shredding machine. 
The 2023 Scott Lumen eRIDE 900 is available at £9,299, with the Lumen eRIDE 910 priced at £6,499. 

Haibike Lyke CF 11 2023


Continuing the market trend of riders looking for lower power, lightweight options, one of the worlds most recognisable brands has finally entered the market with the Haibike Lyke range. The 2023 Haibike Lyke CF 11 is the middle model in the range and offers impeccable value. Powered by the new Fazua Ride 60 drive system with a 430Wh built in battery, Shimano XT group set and Fox suspension, we expect to be seeing a lot of these on the trails in Summer 2023 and beyond. 
The 2023 Haibike Lyke CF 11 product page has the full specification and information, and there's a dedicated page for the full 2023 Haibike Lyke CF range too. 

Cube Stereo Hybrid 160 HPC Action Team 750 2023
Along with the prize for probably the longest eMTB name ever, this is a bike which just gets better with every year while remaining impossible to beat on value. At just £6,999, the 2023 Cube Stereo Hybrid 160 HPC Action Team 750 packs in a specification list you'll only find from other manufacturers at the £8,000+ price points and is the main reason such a huge number are pre-ordered long before they start arriving in dealers. The latest Bosch Generation 4 85Nm motor with Smart System software, their biggest 750Wh battery, a complete Shimano XT group set and Kashima coted Fox Factory suspension at sub £7k is just unheard of. Until now. 
Jump over to the 2023 Cube Stereo Hybrid 160 HPC Action Team product page to read more, or check out the rest of the superb value 2023 Cube Stereo Hybrid 160mm travel range. 

Orbea Rise H10 2023
Another Orbea to make the shortlist and for good reason. When Orbea launched the H (for Hydroformed Alloy) series back in 2022, we fully expected it to be an instant hit and like most dealers, we weren't wrong. Offering a larger (540Wh) battery than the Carbon (360Wh) versions and a lower starting price point, it bought the lightweight category bikes down by over £1,000 and into a price bracket which included many more riders. The 2023 Orbea Rise H10 is the top specification Alloy version of the Rise at £6,299 but incorporates all of the most desirable specification from the mid-range Carbon options. 
You can see the full specification and write-up for the 2023 Orbea Rise H10 on our product page, as well as the now 7 bike strong full 2023 Orbea Rise model line up on its own category page. 

Cube Stereo Hybrid 140 HPC SLX 750 2023
Another bike from Cube in the mix for the longest name award, the 2023 Cube Stereo Hybrid 140 HPC SLX 750 is the pinnacle of value in the world of Bosch driven eMTBs. At just £5,299, to be offering the latest Bosch G4 Smart System, the 750Wh battery, a Kiox 300 display, Fox suspension and a full Shimano XT group set, we challenge riders to find a better value bike than the 140 SLX in its class. We tried. We can't!
The 2023 Cube Stereo Hybrid 140 HPC SLX 750 is going to be a tough bike to beat this year, and is just one of a vast range of 140mm travel bikes in the 2023 Cube Stereo Hybrid 140 HPC range. 

Orbea Wild M-Team 2023
Having changed the name post release so as not to be confused with the previous "Wild FS" M-Team, the new 2023 Orbea Wild M-Team name alludes to an entirely new bike and also because.. well... everyone knows the Wild is a Full Suspension by now! Longer overdue and with no meaningful changes since 2019, the Wild M-Team offers a brand spanking new frame to take advantage of the new Bosch Gen 4 85Nm powered Smart System, coupled with all of the Orbea handcrafted genius and finish you expect from this unique Spanish brand. 
We wont rattle on about this bike. You really need to look at the close-ups to appreciate the beauty of an Orbea eMTB and the 2023 Orbea Wild M-Team is no different. One of a vast range of 2023 Orbea Wild models, these are some of the most unique bikes you'll ever ride. 

Haibike AllMtn CF SE 
A "rollover" model from 2022 to the new model year because "if it ain't broke, don't fix it". Also because due to parts availability, the Haibike AllMtn CF SE was a little bit late coming to market in 2022, Haibike are carrying it through to the new model year which is great news for riders because at £6,699, this aggressively styled "one bike does it all" option from Haibike rivals Cube in the value stakes. A carbon frame, the latest Bosch Gen 4 Smart System tech, top-tier Rockshox suspension and electric gearing make the AllMtn CF SE a highly attraction value proposition. 
The Haibike AllMtn CF SE is just one of an ever expanding range of AllMtn models from Haibike. 

Scott Strike eRIDE 900 Evo
Last but by no means least, the new 2023 Scott Strike eRIDE 900 Evo earns its place in the list for being able to do just about anything you ask of it. Based on the Patron frame system, the Strike is designed to be an "all mountain" bike and with 150mm of super plush and instantly lockable Fox Suspension, SRAM Eagle AXS wireless shifting and Shimano XT brakes, taking off and coming to a stop with the Bosch Gen 4 Smart system couldn't be easier. 
The 2023 Scott Strike eRIDE 900 Evo is the top model in the 2023 Scott Strike eRIDE model range. 

Which of our Top 10 Electric Mountain Bikes to Buy in 2023 are you considering? 
If you're interested in any of the above bikes and need more information than is offered on the product page, brand impartial advice from an electric mountain bike expert or anything else at all, please don't hesitate to Contact Us or Book an Appointment to see one of the team.