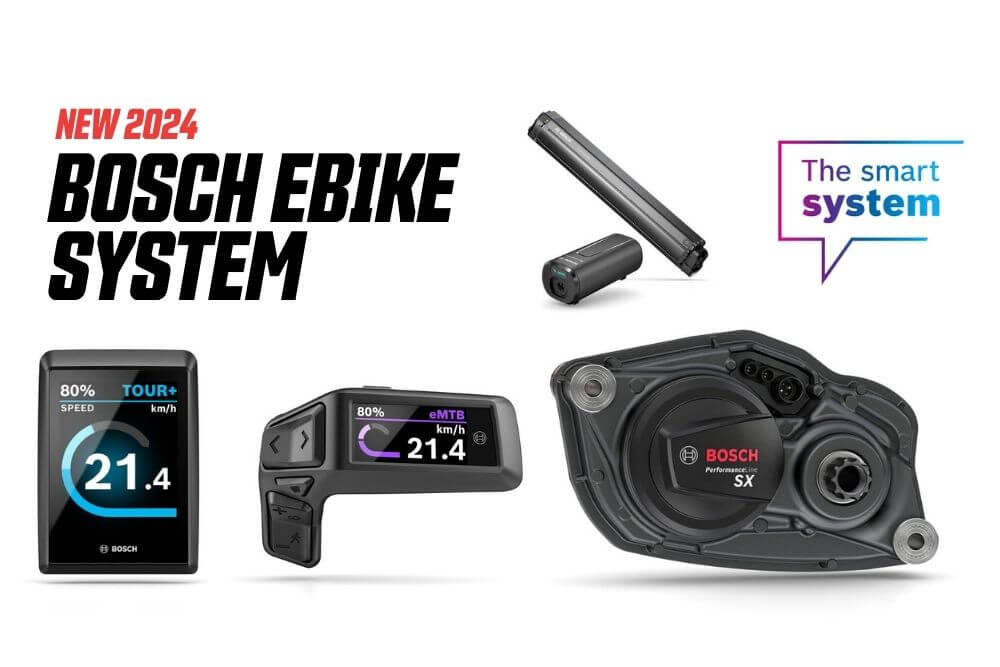 New products unveiled in the 2024 Bosch eBike Systems range
By Ben Mowbray |
With a new model year comes yet more development from the worlds biggest mainstream electric bike motor and drive system manufacturer.
A product of continual innovation, for model year 2024 Bosch are bringing to market more updates, clever tools and brand new products to complement the new Smart System updates already launched for 2023.


What new products are Bosch launching for 2024 electric bikes?
Bosch always like to surprise us and the 2024 product launch is no exception. Even at the back of our minds, believing we must be due one soon, along with a couple of new display options and a brand new battery set up, for the first time in several years we're finally getting a brand new motor from Bosch for 2024! 



New 2024 Bosch Performance Line SX motor
Aimed at the lightweight category and looking to compete with the likes of the Shimano EP8/EP801 and the EP6, the new Fazua Ride 60 and the TQ HPR50, the 2024 Bosch Performance Line SX is Smart System enabled and will likely start appearing on bikes at early as Autumn 2023.
Lightweight
The new Bosch Performance Line SX motor comes in at sub 2kg which is unheard of for a Bosch eBike motor previously. This new tech not only allows a smaller and lighter shell, but it also allows bike manufactures to integrate the motors in new ways. 
Up to 600 Watts
250w nominal (UK legal limit) but peaking at 600w with an output of 55Nm and weighing in at just under 2kg, its brand new "Sprint Mode" will mirror technology already on offer from Shimano. This new mode is designed to directly mimic the riders input and offer a more natural, sporty ride without overstepping its mark and will suit riders who want a lightweight bike to complement their ride in a more intuitive way.
New Sprint Mode
This cadence based assistance program is designed to offer eGravel and urban riders more dynamic support when they need it most although its application will lend itself well to lighter weight full suspension bikes.



New 2024 Bosch Purion 200 display
Having neglected to include the old Purion in the latest Bosch Smart System update, for the current model year we've seen many entry level bikes arriving with just the LED Remote as a "display" option.
While the LED Remote doesn't offer anything in the way of real time data, users could still use their mobile phone and the Bosch eBike flow app as a cycle computer. The new Bosch Purion 200 solves this gap in the Bosch product line.
Looking strikingly similar to the existing LED Remote, the new Purion 200 uses the same button layout on the left hand side but now incorporates a really neat 1.6" colour display & will be an easy "plug 'n' play" upgrade for any bikes already on the market with just the LED Remote.




New 2024 Bosch Kiox 500 display
Bigger = Better
Larger than the current Kiox launched in the last product range update, the new Bosch Kiox 500 display builds on an already intuitive eBike control system but offers a much larger display area for better visibility of its best features. 
Fitness and Navigation
Designed around maximising the benefits of the satellite navigation and fitness tracking tools, the new Bosch Kiox 500 will suit those riding further and in unfamiliar territory, or looking to push the boundaries of their fitness and move up to the next level. This data can be fed during or post ride to most of the top fitness apps.
Your Bike. Your Way.
The larger display now also offers the ability to tailor the display layout to better suit each individual riders needs. Riders can select what is visible on the 'home screen' allowing for a clutter-free experience.



New 2024 Bosch PowerMore 250
Although dual batteries aren't new to Bosch, the brand new Bosch PowerMore 250 offers an easy to add/remove, completely portable bottle cage sized range extender very similar to those already on offer from the manufacturers of Shimano and Mahle systems. 
This clever, user friendly system is easily added to the bike when you need the extra range, and removed when you need to shave some weight. 1.6Kg, to be precise. The new PowerMore 250 extender battery is neat and compact in design, similar to a bikes water bottle for example it is 20cm long and only about 8cm wide. 



New 2024 Bosch Dual Battery system
Finally, the return of the Bosch Dual battery system! 
Featured on lots of our bikes (Haibike, Scott and Orbea had previously taken advantage of this technology on pre-2023 models) prior to the 2023 Bosch Smart System update, the option vanished for a while and very little was said by Bosch about it. Now, for 2024 the Bosch Dual Battery system returns (on compatible bikes) for those who cover longer distances or transport heavy goods.
This has initially been depicted by Bosch as a link-up of their Powertube battery range and the new Bosch PowerMore 250, which would mean that with their largest 750Wh PowerTube battery, the maximum theoretical capacity on offer immediately for manufacturers who build their bikes with it in mind (and we think that at least one of our manufacturers has already done this and they're in store now!), would be 1,000Wh.
This figure is a little down on the previously achievable 1125Wh using the internally mounted 625Wh PowerTube and a frame mounted 500Wh PowerPack, but with Bosch's own figures, the new combo has a potential range of over 200 miles on a full charge, and who needs more than that?!



New 2024 Bosch PowerPack 400 & 500 Rack
We thought we had seen the last of these very many years ago, but now they're back. 

Normally found on more entry level bikes, the PowerPack rack batteries were favoured by many for their ease of fitting/removal and the ability to keep costs down when designing frames.
Fitted into the rear luggage/pannier rack of the bike, they were a common feature on leisure/touring/hybrid style bikes and we expect this will be the same when they return on model year 2024 bikes although we can see a possibility of Cargo style bikes making use of them too. 
Given that they're only being launched in 400Wh & 500Wh varieties, unless they do later appear on Cargo models we expect these are being targeted at the lower end of the market, but that's no bad thing at all if it allows manufacturers to bring bike prices down and capture more riders on a Bosch driven product.
Watch The Latest 2024 Seminar From Bosch
Bosch is launching the new 2024 Bosch eBike system today on YouTube with a live seminar. Watch below:



Our thoughts on the new 2024 Bosch eBike Systems
Quite literally light years ahead of the competition when it comes to product development, especially with their display systems, we love and eagerly anticipate receiving the Bosch Dealer Package each year. 
Not only are they always surprising us with new features, they're never a gimmick. Their "real-world" usable products are always something our customers get great value from. The ability to be able to use your screen on your bike as a SatNav either in "free ride" or by importing maps or GPX files from your favourite cycling apps remains a Bosch exclusive, as does their Flow+ and Connect Module for worry free tracking and built in security alarm released in the last update. 
As well as fantastic products, Bosch offer industry leading diagnostic equipment and after sales support to their authorised dealers and support centres and we expect this to continue through to their new 2024 Bosch eBike Systems update. 
A couple of quick answers to questions we expect in the coming days;


When will these products be available?
Given that model year 2023 is currently in full swing, we don't expect to see any availability of them prior to the launch of model year 2024 bikes which currently is expected to be around Autumn this year. Bosch will naturally prioritise bike manufacturers and so its unlikely we'll be able to buy any of these components directly (IE, not already fitted to a bike) until Spring 2024.
Can I fit the new Bosch Purion 200 and Bosch Kiox 500 display on my current bike?
Yes, the new Purion 200 and Kiox 500 will be available to purchase as an upgrade from already fitted displays on bikes which already have the Bosch Smart system however as above, we don't expect to see any availability to purchase them separately from Bosch until Spring 2024.
If you are unsure if your current bike is running on the latest Smart System software, there are a few easy ways to work this out.
The Bosch Smart System product range was launched on model year 2022 bikes. If you bike is older than this, it will not be compatible. 

While the Smart System was launched on Model Year 2022 bikes, the previous system was still being produced and so if your bike came with a Bosch Purion, Intuvia (not Intuvia 100) or Kiox (not Kiox 300) display, your bike is not Smart System compatible and these displays will not work.

Can I get the Bosch PowerMore 250 Range Extender for my current bike? 
The new Bosch PowerMore 250 is likely to have been communicated to bike manufacturers as much as 2 years ago, to give them enough time to build compatibility into their model year 2023 bikes if they wanted to.
Right now, we don't have a compatibility list although we have seen some unusual bolts on downtubes which we didn't have an explanation for from the manufacturer (because these products have been under embargo until today, and we have only known for a week!). 
We'll update here when we know exactly which of our bikes will be compatible.
Can I change the motor in my bike to one of the new Bosch Smart System motors?
This is unfortunately not possible. Frames for eBikes are designed by manufacturers specifically around the motor/battery combination and each motor has different mounting points/dimensions. This makes all of them incompatible with each other. 
We hope you've found this article useful. If you're looking for your new Bosch driven electric bike, you can find more than 50 available in our Bosch eBike Range.