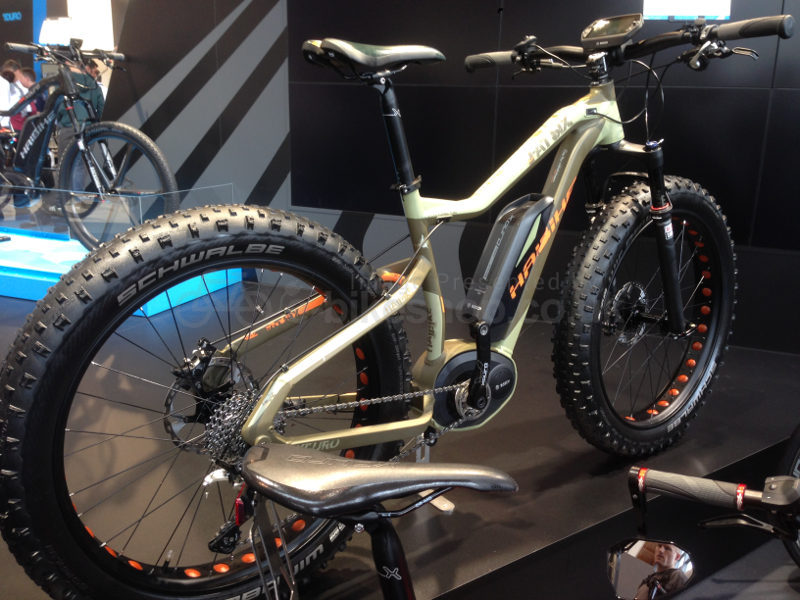 Fat eBikes: Haibike FatSix 2015 Fattie Electric Bike Revealed
By Martin Brown |
So fat bikes have been around for yonks now. But why have they only just taken off? The electric bike world has a big part to play in this, let us explain whilst revealing the brand new Haibike FatSix 2015 fat eBike!
What are fat bikes for?
Realistically the wide tyres and burly wheels are great for travelling over harsher terrain like, deep mud, snow and sand. But they are also widely used for bombing about on be it to the pub or round the local trails.
Why have fat bikes become so popular in Britain?
This is a good question, as we don't have many deserts, although we do have some good coastal beaches. We also don't get much snow here either. So why have they become so popular? This is easy.. Because Fat Bikes are awesome!
Disadvantages to fat bikes?
Well.. They can be heavy, clunky and generally quite hard to ride around. Yes they have amazing grip levels when it comes to softer terrain, but the high rolling resistance and added weight of the huge tyres often drags fat bikes down on the road or on hard pack surfaces.
Why Fat eBike then?
It just makes perfect sense! Build a bike with lightweight (but wide) drilled out rims, stick on some super wide but lightweight tyres and you have a bike that's not really that much heavier to ride. Add a Bosch eBike motor to the equation and you are laughing. For once we have a bike that is powered assisted, using a renowned reliable electric system from the German manufacturer Bosch.
Say hello to the 2015 Haibike Fat Six!
2015 Haibike xDuro FatSix - The next generation of eFAT bikes! The Haibike FatSix is a brand new model in the 2015 xDuro line up. Its built with bullet proof components and comes in at a decent price. The new Haibike FatSix bike is built using the Bosch Performance Drive System and the using the brand new Bosch Nyon LCD multifunctional display. Bosch Nyon connects directly to your smartphone using Bluetooth to navigate your music collection view incoming text messages and call. Nyon really gets advanced with its built in satellite navigation and full fitness suite which connects directly to your pc to download rides and measure your fitness. You can read more about Bosch Nyon on our other article - New Bosch Nyon Functions. Here's a short video showing some of the features. 
Haibike have fitted this bad boy out with RockShox new Bluto front suspension forks, these are specifically designed for fat bikes.
The forks offer 100mm of travel and full air adjustability for each individual riders weight. They also feature a remote 'PushLoc' so the rider can lock the forks out when on the move to preserve energy. The Fat Six rolls around on a hydroformed alloy German built chassis, with internal cable routing to keep everything clean and snag free. The frame comes in this fantastically cool Camo style colour scheme!
To keep thing easy Haibike have opted for the lightweight Shimano XT 10 speed drivetrain and a pair of hydraulic disc brakes front and rear to match. Easy, simple, maintenance free and with ample stopping power to keep this beast under control on the descents. The wheels are built using Alex AQ6 rims which are specifically built for fat bikes. These super wide rims are alloy and drilled out so very lightweight without compromising strength. These are laced onto Formula sealed bearing hubs on super stiff through axles front and rear and laced using DT Swiss double butted spokes. Creating a super lightweight but super strong wheelset for this amazing machine to roll on.
To grip these lovely wheels to the terrain Haibike opted for the Schwalbe Jumbo Jim 4" wide tyres! Again specifically designed for fat bikes by the Germans, these tyres offer superior amounts of grip across varied terrain without adding unnecessary weight to the bike, in fact they come up just as light as a set of 2.4 Muddy Marys! A bullet proof bike deserves a matching set of bullet proof super grippy tyres!
What do we think?
We had the opportunity to ride one of the very first prototype FatSix's that Haibike made in Germany a few weeks back. This badboy is so much fun to ride around, even more fun as you power past other cyclists on their lightweight roads bikes and full lycra gear! Here's a ten second glance over the fantastic new Fat eBike (excuse the blue wheels, this ones a prototype) 
All in all we think the new Haibike FatSix will be a winner all round with posers and serious MTB'ers alike! You can view the full specification and pre order the bike here - Haibike xDuro FatSix Fat Bike 2015