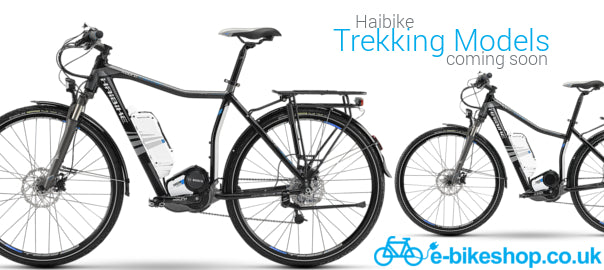 Haibike Trekking Electric Bikes Come to the UK for 2014!
By Martin Brown |
German manufacturer Haibike have been dominating the UK market with their electric mountain bikes. However we are pleased to announce today that we (The UK's largest Haibike eBike dealer) will be selling the brands Trekking models on UK shores for 2014. In particular the Haibike xDuro Trekking SL 2014 electric bike.
We all know that the largest electric bike market in the UK is for trekking bikes. Used for everyday Commuting / Trekking / Touring cycling. Well up until now only the Germans got to buy the popular trekking models from Haibike. By bringing the Trekking eBikes to the UK these will be sure to be a popular choice for someone looking for the high German build quality and finish.
Haibike are already known for their unique inverted design to situate the Bosch motor within the frame so its up and out of the way. You can read more about this in my 'What makes Haibike different' post.
The model we will be bringing over is the Haibike xDuro Trekking SL 2014 model. Available in both Gents and Ladies formats. The specification and price of both electric bikes will be the same but the ladies version has some alterations to the frame style and geometry to give a shorter top tube for a more relaxed ladies specific position and a lower step through design frame.
Both frames are designed to be both lightweight and comfortable over longer rides. They are also fully equipped with mudguards, puncture resistant tyres, pannier racks, lighting systems, comfy saddles, prop stands and even an inbuilt pump. In fact every aspect of the users requirements has been well thought out here by Haibike. They feature German Schwalbe manufacturers puncture resistant tyres. These are the 'Energiser' tyres designed specifically for electric bikes. they offer low rolling resistance and an in-built Kevlar lining to stop those nasty punctures.
These Haibike Trekking bikes feature self sufficient lighting systems that run straight from the Shimano dynamo hub. They will actually stay on for a while when the wheels are not rolling so as to stay on at traffic lights etc. So you can be sure to be visible in all conditions. These electric bikes are Bosch Tuning Dongle compatible if you should wish to take away the annoying 15mph speed cut off. (Not for road use obviously).
As always these models will be popular and Haibike generally don't have enough to meet the demand the eBikes generate. We are therefore taking deposits to secure models and sizes ahead of the proposed delivery date of Mid December 2013. We sell more Haibike electric bikes than any other supplier. Therefore we always receive these models first. We can ship anywhere in the country. Otherwise collection in store is welcomed with a coffee and rider set-up so we can make sure the bike fits you perfectly and talk you through the electric bike from top to bottom to make sure you are clue'd up prior to leaving. You can view the Haibike Trekking SL Ladies version here. The ladies version will be available in 2 sizes - 48cm & 52cm.Or the Haibike Trekking SL Gents eBike here. The gents model will be available in 3 sizes - 48cm, 52cm & 56cm. Should you have any questions or wish to place a deposit please feel free to call us on 01252 279 279 (Ask for Martin for technical advice)