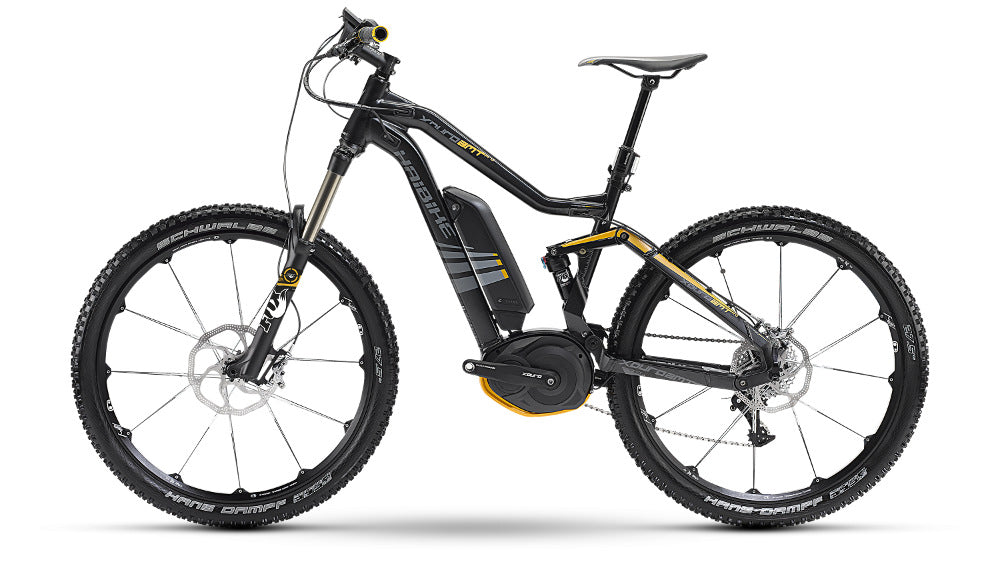 Haibike xDuro AMT PRO 27.5 2014 – Gen 2 eBikes Coming Soon to our UK dealership!
By Martin Brown |
January 2014 is fast approaching, we are all looking forward to the brand new Haibike Gen 2 models arriving. The 2014 Haibike xDuro AMT PRO 27.5 being one of the exciting new models. The demand for us has been massive on this XC/ all mountain/ free ride/trail centre eBike. As the largest UK Haibike Dealer we will eb the first to get our hands on this exciting Gen 2 model. So why buy this new Haibike xDuro AMT PRO model? Here's a quick overview:
With 150 mm travel and the Bosch performance motor, the Haibike xDuro AMT Pro is your ultimate all mountain bike! Up lifts are made redundant with the new 2014 xDuro AMT Pro 2nd Generation model. The finish on this German built eBike is just fantastic, you have to see it in real life. The pictures just don't do it justice!
 
I'm sure this model is going to go down well. Its the bigger brother to the FS AMT 26 that we currently have in stock and is by far one of the most popular models in the range.
 
This more lightweight model has some all new features. The frame geometry is totally re-designed. It features 150mm travel front and rear and benefits from the new 650B / 27.5" wheel size. This new wheel is designed with the benefits of the bigger 29" in wheel in mind, so it rolls fast and flows over bumps easier, but uses the 26" wheel characteristics for good manoeuvrability through tight single track areas.
Its perfect for the serious mountain biker from full on all mountain trials to local bike parks. The spec of this bike is top end. You have Crank Brothers Iodine 2 wheelset, Sram XX1 / X01 drive train and, of course, completely newly developed suspension of the Haibike Sprocket Equalizing System (SES). The bike also features a Fox's 34 Talas forks with adjustable travel from 120mm to 150mm on the fly and Fox Kashima coated CTD rear shock. Avid's X.0 trail brakes on big uprated rotors supply more than enough stopping power in any condition. Couple this with Haibike's newly developed frame geometry and you have an eBike you can really put through its paces. Its un-stoppable! Read More about the S.E.S System in my blog page.
The new Haibike Gen 2 bikes also feature the latest Bosch Performance crank drive motor, so you can be sure its fitted with the latest kit and set up for optimum performance. Haibike are the only manufacturer to mount the motor with the swing arm pivot bolt in a raised position ensuring the rear end is much shorter than any other eMTB. This ensures a shorter wheelbase for the ultimate control and manoeuvrability off road. They fix the chain line with their new S.E.S. (Sprocket Equalizing System). This raises the chain off the front sprocket up to the same level as the swing arm pivot point so the chain is not affected by the rear end moving up and down over bumps. To find out more about this please read some of our Bosch E-Bike information articles in our blog. This eBike is 'Bosch Tuning Dongle' compatible. So you can now have no speed limits; creating an un-stoppable machine! Read the full specification / reviews / pictures of the Haibike 2014 xDuro AMT Pro If you would like further information or to place a deposit on the stock arriving please call us on 01252 279 279 (ask for Martin). These models are already in short supply. Bosch have announced a supply issue due to the demand. Reserve yours today!