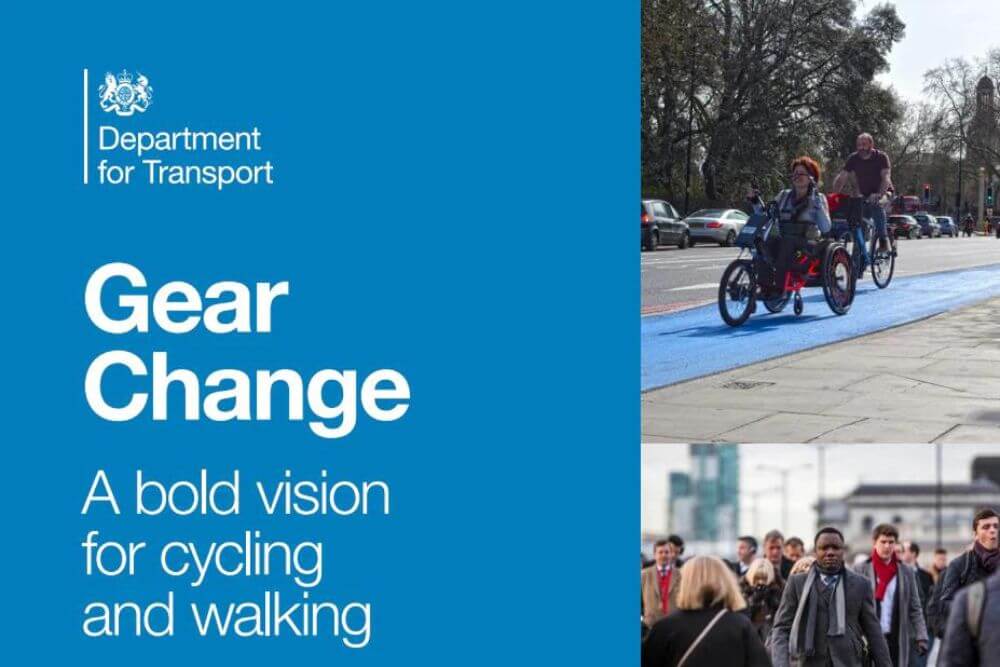 Government eBike subsidy scheme
By Martin Brown |
Could electric bike prices for consumers be due to drop by as much as a third under the UK Government's new plan to shake up and better enable the way people move around in large towns and cities? Is a Government eBike subsidy the answer to bringing the UK in-line with the rest of the EU on cycling adoption rates and transport? If so, how do you apply for a government ebike subsidy or grant?
Operation "Gear Change".
In July 2020, the Government launched a new plan called "Gear Change", a "Bold Vision for Cycling and Walking". Looking to create a step-change in cycling adoption rates, they announced a new £2bn funding package with a £175m purse for local councils to help make England a great cycling nation by providing safer spaces and networks for those looking to move away from vehicular transport.
On top of this, there are also strong hints at plans to offer government eBike subsidies or grants. This is welcome news for everyone because currently, eBikes are the only form of sustainable/electric transport where subsidies/grants aren't already available in the same way they are with electric cars, motorbikes and lorries.
---
When will the Government ebike subsidy scheme begin?
The Government's plan is to set up trial schemes in some UK cities and towns "before the end of the fiscal year", which sets the deadline as March 2021 however very little official information exists and the Coronavirus situation will of course have an impact on anything above initial talk and research. Its also worth bearing in mind that similar plans have been touted previously, to little fruition. We do of course still have the normal "Cycle to Work" schemes available, which have proved incredibly popular, especially so over the last 12 months. They allow employees to save as much as 40% on the price of a new bike through sacrificing some of their pre-tax salary.
While this time it appears (outwardly at least!) that it really could be a "go-er", as with anything government related it will take time and very little information has given to-date. No confirmation has been made on where or exactly when the trials will start, who will be involved, or the criteria for eligibility for any new Government eBike subsidy.
How can I apply for the Government eBike subsidy?
Because the scheme isn't live yet, we don't have any answers to many of the most commonly raised questions when new schemes are put in place. Once more information is readily available and verified, we'll set up a dedicated page on the website for it, much like with Cycle to Work E-Bike Schemes.
---
The new cycling revolution began in the first UK Covid-19 Lockdown.
During the first of the Coronavirus lockdowns in the UK, the Government commissioned studies into changes in transport behaviour - with people "locked up" in their homes and only 1 form of exercise permitted per day, eBikes were a naturally easy way for those not used to daily exercise to get out and enjoy the weather while improving their fitness at a pace that scales with them. The more you ride, the fitter you get!
Below, is the percentage change in estimated cycling trips taken between 1st March and 4th July, when the first restriction was lifted;
Despite fewer people travelling overall during this period, the average increase in people cycling was in excess of 100% and at weekends, this was as much as 200%. This was particularly prevalent in large towns and cities and especially among key workers and those who cannot work from home where public transport was simply too big of a risk . Over this time, we saw a sharp rise in the sales of our Hybrid, Town and Trekking eBikes, especially in and around London and other major cities.
This increase in cycling activity offers a huge personal benefit, but also a much wider reaching positive impact. Any increase in physical activity is estimated to reduce the risk of dementia, depression, some cancers and "all-cause" mortality by as much as 30%, and can reduce risks associated with Type 2 diabetes and cardiovascular disease by as much as 40%. A win personally, but also a load off an already struggling public heath service.


---

Better infrastructure is needed.
Cost aside, one of the biggest barriers to eBike (or any cycle) adoption rates is the perceived conflict with or danger to those on two wheels on the UK's roads from vehicle users. Under "Theme 1" in the new plans, the government will no longer fund cycle route schemes for simple "painted lines and symbols" routes, nor those where pedestrians and cycles are forced to occupy the same space.
The funding will only be approved for local authorities who treat cyclists as a vehicle class of their own and provide a physical barrier between motor vehicle users, cyclists and pedestrians. This might be raised curb to separate the main carriageway or a small barrier, but it will be a move to finally bring us closer to our European counterparts, where as much as 40% of journeys are made on two wheels.
Whilst the possibility of new Government eBike grants ride in the back seat for the moment, they're committing to "find cities and towns across the UK to install at first hundreds, then thousands of miles of main road cycle tracks", citing that cycling increased by 55% after the installation of a protected cycle track on London's Blackfriars Bridge.
---

Moving cycling to the heart of transport, place-making and health policy.
With access and sharing of space issues being alleviated, the significant and dedicated spend increase on infrastructure will only help to increase the uptake rate of Government eBike grants. The UK Government pledges to create a special "budget". The delivery of schemes previously have been hampered by the "stop-go" nature of funding avaialbitly. With a new assured pipeline of funding, local authorities will better be able to long term plan changes to infrastructure to enable this new drive for more sustainable inner city transport and movement.
Part of this infrastructure change and enablement strategy looks at increasing the ways in which cyclists are able to use existing transport and its links. As well as working closely with transport schemes to ensure that cyclists are both valued and considered as a vehicle in new road network planning, it also seeks to address the ways in which railways and bus operators support cyclists on parts of their journeys.
On top of the infrastructure and strategy on the integration of other services providers, provisions are also being made to better enable the movement of goods - specifically "last-mile" (covered under the "Last Mile Review" and Transport Decarbonisation Plan) deliveries via the use of Cargo bikes. Some Cargo eBikes are cable of carrying as much as 250kg and so in extra urban environments, the lower purchase and operating cost of cargo eBikes like the Tern GSD S10 along with the ability to take up less space on the road than a small van make them an incredibly popular options for couriers.
---

How does all of this sit with current supply issues for new eBikes?
Its no secret that the cycle industry right across the world has experienced a huge surge in demand, but is currently suffering. Much of it coems down to supply of common parts. Manufacturers of gears and brakes for example, are almost universal across all major brands and with the demand for cycles being as much as 10x the production capacity of manufacturers at the moment, its no surprise that the supply of new eBikes is much slower than normal. We handle thousands of calls and emails each week, and 80-90% of bikes arriving each day are pre-sold prior to arrival - if you don't have a bike already on order its difficult, if not totally impossible to get the bike you want in the size you need during 2021.
So has this come at a bad time?
There's no bad time for the government to offer ebike grants and subsidies. Anything which increases the adoption rate of eBikes is fantastic news, but the timing could have been better. Its been cited that some dealers have seen a drop off in orders or have met with objections from customers reluctant to order a bike now, and then find they could have got it cheaper had they waited.
Unfortunately, with stock so scarce at the moment, not at least placing a pre-order on a bike means you'll be unlikely to get a 2021 model eBike at all, and therefore less so with the backing of a Government ebike grant or subsidy.
The other things to consider are;
The length of time it will take to implement a scheme like this. You still have the use of
Cycle Schemes
in the meantime. Eligibility criteria.
Whilst not a market we're involved in, trials in preparation for legislation on privately owned and rental e-scooters began in September 2020 and are still ongoing 5 months later. Once complete, there will be months of data gathering before implementing a stringent section in law much as there is with current eBikes. It could be reasonable to assume that it will be at least a year before a verdict reached and announcements made on their permitted use, Covid-19 allowing.
With the above in mind and trials of the touted government ebike subsidy scheme not yet even visibly started, we could be well into model year 2023 before it starts to show its benefits to end users, at which point, perhaps, supply will have settled to a sustainable level!
There might also be a strict eligibility criteria, so its possible that the scheme could be rolled out to those who need it most initially, before being rolled out to those who could otherwise readily get themselves a bike with no financial assistance.
Scotland Electric Bike Loan Scheme
For more info on our dedicated Scotland Loan Scheme page.

We'll update this page and any information as it becomes available.