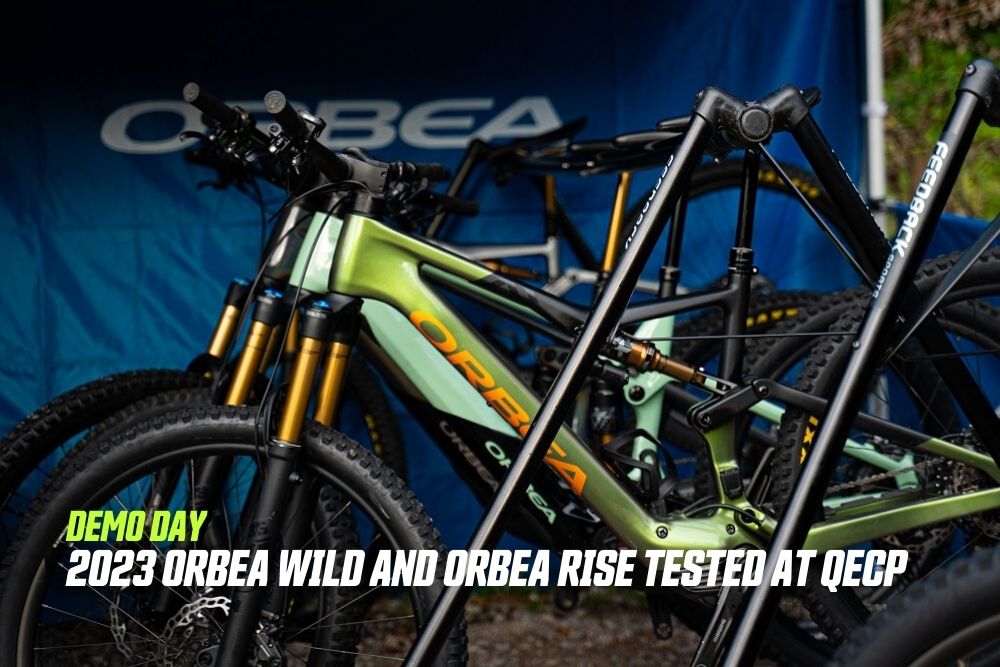 Demo Day on the new 2023 Orbea Wild and Rise @ QECP
By Ben Mowbray |
Taking advantage of the last of the UK summer sun and offering 54 riders the chance to ride the brand new 2023 Orbea Wild and Rise models, we headed to Queen Elizabeth Country Park in the Hampshire countryside for a day of thrills, spills and laughter on some of the best bikes in the business. 
Here's how the fully booked event went. 
2023 Orbea Wild and 2023 Orbea Rise Demo at QECP
With Covid-19 lockdowns having put a halt to Owners Club Rides and Demo days for over 2 years, it was great to be back out on the trails with customers.
There's a completely different dynamic to being out in the wild with current and potential customers which just isn't achievable in a store setting - it really brings out the fun of mountain biking and QECP is a great place for it. 

Queen Elizabeth Country Park
Known to local riders as QECP or just "QE", Queen Elizabeth Country Park is a 1400 acre woodland park in the the South Downs National Park and includes Buster Hill, the highest point in the South Downs at 886ft.
The park contains several locally well regarded, way-marked/graded and well maintained mountain bike trails, along with dozens of "pirate" trails created by many years of multi-generational mountain bikers.
Despite having ridden almost every inch of it over the last 15 years, rocking up at the gates at 7.30am was still a first for me. Having driven there while the sun was still coming up, seeing the mist hovering in the canopy and morning dew on the grassy areas at the bottom was a welcoming sight, as were the friendly faces of Dom and Lee from Orbea and Factory Pro rider Ben Moore, who had flown over from Spain where he now lives full time especially for our event. 
2023 Orbea Wild and Orbea Rise in the Paddock
Set up in the gravel area outside of Southern E-Bike Rentals, the Orbea stand is as commanding as it is colourful, with all of the shiny new Wild and Rise models neatly lined up, clean and raring to go. 

The bikes on offer for the day were;
2023 Orbea Wild M-Team
The brand new and award winning 2023 Orbea Wild M-Team, all painted in custom Orbea MyO custom colours looked incredible in the sunshine. 
Their carbon frame, fitted with the latest Bosch Generation 4 motor with 85Nm of torque and a 750Wh battery makes them the perfect tool to attack the steep climbs of QECP, especially in the winter when it can turn into a bit of a bog in some places. The Kashima coated Fox 38 Float Factory Forks, Float X2 Rear shock and a full XT group set place this bike firmly in the top end of current eBike technology. 
2023 Orbea Rise M-Team
Also available to ride on the day was the 2023 Orbea Rise M-Team. Painted in custom MyO colours and a personal favourite, QECP is a place where the Rise models should be right at home. 
The 2023 M-Team variant uses the Shimano EP8 motor with Orbea's own custom RS Tuning, Kashima coated Fox 36 Float Factory forks, their Float X shock and also uses Shimano's complete XT group set only on this model, its the Di2 electric shift version. 
Your Orbea Demo Day Team
The day was expertly set up and run by Lee and Dom from Orbea UK. Orbea, as with their bikes, put a huge amount of effort into their demo days. 
As well as arriving the day before to set up their huge Orbea branded marquees, both Lee and Dom were on hand throughout the day to help get riders set up and ready for their ride, including fitting supplied or customers own pedals and suspension tuning to get the most of out of the bike on the trails. 
Also along for the day was Ben Moore. Flying in from Spain for the event, Ben is an Orbea Global Factory Team Pro rider. He's also an "Urban Downhill Pro and top notch flapjack eater".
His enthusiasm for the brand mirroring my own and his eagerness to do everything from set up bikes for the riders, lead rides and even replace a derailleur which ended up not attached where it should have been added an immense level of value and fun to the day. Having an impressive list of victories to his name, he's also not unused to nor bad in front of a camera, which is never a bad thing!
What the riders had to say
After getting the very excited riders set up, out of the stiles and up onto the trails, it gave us all time to grab a drink and anticipate the feedback while discussing some of our own riding stories and how the Wild and Rise models compares and excels against its competition. 
There wasn't a frown to be seen on the faces of riders coming back, with everyone having discovered something they loved, whether it was about the bikes or the new found ability to fly to the top and get in more of the faster, flowy downhill sections. 
We'll let them tell you in their own words in the video below. 
A special thanks is owed to Orbea for putting on the day for us, and Ben for flying over to take part in the day. These kind of events are often difficult or impossible to pull off to this extent with out the support and backing of our manufacturers, and they wouldn't exist at all without our enthusiastic demo riders - You!
If you're looking to get your hands on the latest Orbea eMTB models, there's no better place than at E-Bikeshop in Farnham, Surrey.
We're the only dealer in the UK where it's normally possible to see the whole 2023 Orbea Wild and 2023 Orbea Rise in all colours and sizes all in one place. 
Give us a call or Book an Appointment to come and see them today.