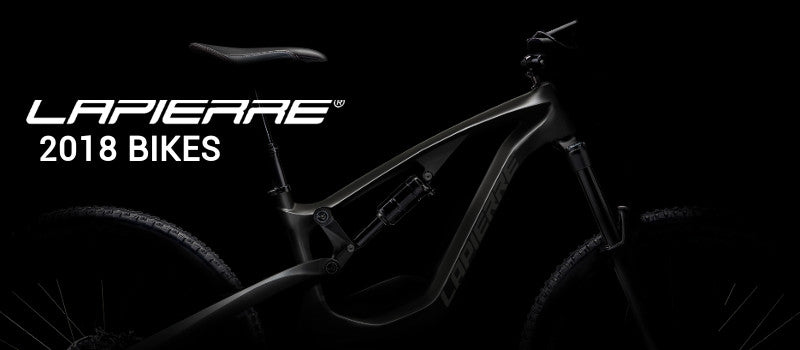 First Look: Lapierre 2018 Bosch & Shimano Electric Bikes
By Martin Brown |
We take a look at the new 2018 range of Lapierre electric mountain eBikes.
Now with both Bosch and new for 2018, the fully integrated Shimano Steps electric bike systems. Lapierre has always been a bike brand close to our heart, where it all started with the original Zesty and Spicy mountain bikes - Winning award after award. Following our
L
apierre facto
ry tour
earlier in the year, we've been bound to secrecy about the brand's movements for 2018. Although a little early on in the season, we're excited to announce the new range of electric mountain bikes, bringing 21st-century riding!
What's new for Lapierre in 2018?
The new 2018 range is like no other with lots of revisions to both frames, geometry and spec. The introduction of a whole new motor system and an entirely new series. Let's take a look at the 3 main new categories:

*** Please note this is an early season preview. Images are artists impressions. Specification and prices can be subject to change ***
Lapierre 2018 Overvolt Carbon Bikes
Last season Lapierre introduced a completely revised eMTB, all based on keeping the weight central & that all important balanced ride. Made from carbon frames with the battery down low.

For 2018 Lapierre have expanded on the carbon frame range with the introduction of a couple of new models, sitting at both ends in terms of price. View the full range of Lapierre Carbon Overvolt electric bikes here → Lapierre Overvolt 2018 eBikes. They have also revised the frame design for straight top tubes and sleek designs. All the bikes have internal stealth droppers built in, 500Wh Batteries and the Bosch Performance CX system with the new eMTB mode. Key features: 148 Boost axles, the DWS (Dual Wheel System) which allows both 27 & 27+ wheels to be mounted, OST+ linkage and of course the GLP (Gravity Logic Project) where the battery is located exactly central within the bike. For 2018 all Carbon Overvolt models will come as standard with a 27.5+ wheel/tyre setup.
Lapierre 2018 Overvolt Integrated Bosch Bikes
The biggest change in the Lapierre 2018 Bosch powered lineup - Full 500Wh Bosch battery integration within the frame. Completely new 150mm travel frame designs to integrate the battery and Lapierre have even been able to make the rear stays 10mm shorter. Interestingly although the range will come as standard with 27.5+ wheelsets. Lapierre has designed these new 2018 bikes to have reversible chips in the dropout, so it can take either 29" or 27.5+. The only electric mountain bike range versatile enough to do this.
View the full range of Lapierre Overvolt Integrated eBikes here → Lapierre 2018 E-Bikes. Key features: Sport mode replaced by new Bosch 'eMTB Mode'. Integrated 500Wh battery. The shorter back end, more playful, great looks and convertible dropout. Thich allows both 27+ & 29" wheels to be mounted. Finally, Lapierre's own stealth seat dropper posts built in on all models.
Lapierre 2018 Overvolt Integrated Shimano Bikes
A brand new model line for 2018! The fully integrated Shimano Steps system will highlight the Overvolt 2018 range. Using the E8000 motor and display, Lapierre has worked in their own custom battery integration. The battery is actually a specific Lapierre solution with the approval of Shimano of course. Lapierre calls this new tech: 'Snake Power Technology'. The idea is the 500Wh battery is bendy and is fed in by a small port on the side, this allows specific integration techniques, an increase in frame rigidity and overall looks.

View the full range of Lapierre Shimano equipped eBikes here → Lapierre 2018 Electric Bikes. These new Shimano Overvolt models are available as a 29" or 27.5" specific models. This is denoted by the model name i.e the 929i is 29" specific and the 927i is 27+". Same price and spec just 2 variants of each bike with the 29" being 140mm travel and the 27.5+ being 160mm.
Key features: Boost axle system, Snake Power Technology, 27.5+ and 29" formats. Specific new integration, compact and ergonomic display. 4 sizes from S to XL and a new geometry for better mass centralization and overall centre of gravity. Great looks and bottle cage compatibility.
When are they available?
We are already taking orders on the 2018 Lapierre electric bikes. Expect Bosch integrated models set to arrive from November. Shimano Steps integrated bikes will follow mid season, around March 2018.
Pre order your new Lapierre 2018 electric bike today here → Lapierre 2018 eBikes.