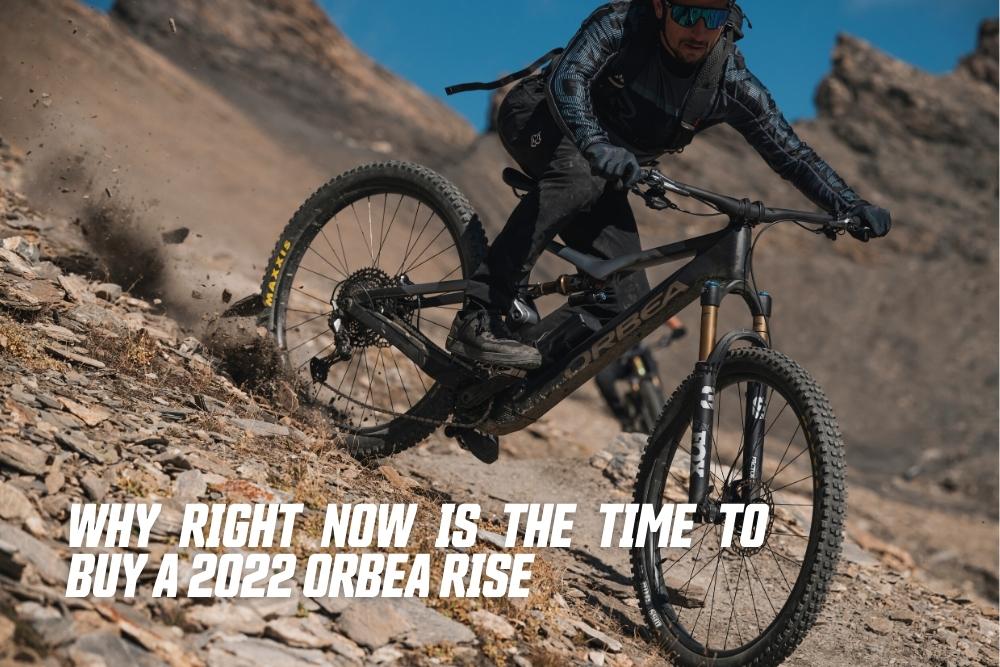 Why right now is the time to buy a 2022 Orbea Rise
By Ben Mowbray |
Finally, we're starting to see the return of normality on some models in the bike industry and as a result, many retailers have a problem that for the most part, we bought on ourselves...


If you're still on the fence about whether a 2022 Orbea Rise is right for you, you might like our previous feature on Full Fat Vs Lightweight ebikes, or the full model feature on the Orbea Rise models. 



Why are we seeing mass discounting of 2022 Orbea Rise models?
During 2020 (when Rise was launched), bike retailers were doing a years worth of business in as little as every 3 months. When orders were placed for 2022 model stock back in spring 2021, demand was still off the charts and many dealers who didn't predict the inevitable return to normality massively over-egged their orders. In turn, the manufacturers over-produced. We asked, they delivered. 



Now, with demand having dropped to just above what we saw pre-Covid (like pre-Jurassic, this is apparently a recognised measure of time now!), these bikes have been produced and are ready to roll, split between dealers warehouses and sitting at Orbea's factory in Spain. 
Unfortunately, the market hasn't been so eager with a poor start to the summer weather here in the UK and as a result, there's a bit of a run on the price of some models and the 2022 Rise is one of them. Consumers aren't silly and of course, they're eager for the best deal. 



Why is right now is the time to buy a Rise?
The 2022 Orbea Rise was the better bike. There. I said it. It comes down to just two things which we'll go into further a bit later on; 
The Bike.
The latest 2023 model is as all Orbea's are, an incredible bike and no-one would be disappointed with one if the preferred model/size/colour from 2022 is already sold out. The colours and overall fit and finish are fantastic and the specification is arguably still better than all of their competition. 
There were however a few specification alternations between 2022 and 2023 which in some cases have flown under the radar but more discerning riders might have spotted and for this reason, the 2022 Orbea Rise has been flying out of stores at ever reducing prices while stock exists. 



The Price. 
The price was raised for the 2023 Orbea Rise models because of the normal annual rises in raw materials, production and transport. In short, like all manufacturers, Orbea put the price up because it costs more to make it now.
By this point, the 2022 Rise had already paid its way when things were a bit cheaper with Orbea already having agreed its component prices over a year prior. 



Better specification on the 2022 Orbea Rise
There were a few changes to the specification which only those who know the full product and component family layout might have spotted, but we'll run them off here for you to see in the plainest form; 
Rise M20 - The entry level model and very little change. The bars and seat post were changed for 2023 to bring them in line with Orbea's own newly designed items. 
Rise M10 - Normally the best value model in the range when considering specification against price and factoring in the skill level of an average rider and also saw the highest level of change. For 2023 it dropped from Shimano XT to Shimano SLX level brakes. It also lost its Raceface handlebars and stem in favour of Orbea branded items and its Raceface Turbine wheelset replaced by  Orbea's own brand new OQUO items (which have been reviewed very well!).
Rise M-Team - How you feel about the changes to the M-Team depend on who you are and how you look at it. Absolute top specification Shimano XTR group set is dropped in favour of a Shimano XT (next model down) setup on the 2023 version, but, its the swanky electric shift Di2 version. The Raceface bars, stem and wheels are replaced with the same items as used on the M10.
Rise M-Ltd - Very few changes on this. The Raceface components are again swapped out with Orbea's own top end componentry for 2023, but it retains its Fox Transfer SL Kashima dropper.



Better pricing on the 2022 Orbea Rise
With prices having gone up for 2023 but Orbea and their retailers being in a period of overstock currently, prices on 2022 models have been tumbling which only widens the value gap between the two model years. 
Bearing in mind the marginally better specification of the 2022 models, here's a breakdown of prices on our website right now; 


Rise M20
Orbea Rise M20 2023 - RRP £6,499
Orbea Rise M20 2022 - Was £5,899, now £4,099. Saving of £2,400 over the current model
Rise M10
Orbea Rise M10 2023 - RRP £7,999
Orbea Rise M10 2022 - Was £7,499, now £5,199. Saving of £2,800 over the current model
Rise M-Team
Orbea Rise M-Team 2023 - RRP £9,299
Orbea Rise M-Team 2022 - Was £8,799, now £6,099. Saving of £3,200 over the current model
Rise M-Ltd
Orbea Rise M-Ltd 2023 - RRP £9,999
Orbea Rise M-Ltd 2022 - Was £9,599, now £6,699. Saving of £3,300 over the current model



Will 2022 Orbea Rise models get any cheaper? 
In short, not without significant losses. 
Right now, most dealers (including E-Bikeshop) involved in this mass discounting are selling them at cost price, save for enough margin to cover off their cost of sale.



Things like the time it takes to build, inspect and do any software updates, shipping and packaging, costs associated with those who purchase using a cycle to work scheme or interest free finance (which retailers actually pay for) are built in but otherwise, there is no room to drop further on these, making this the time to bag one. 



How sustainable is the pricing on 2022 Orbea Rise?
This is not at all sustainable.
No-one wins a "race to the bottom" which is why top retailers generally try to avoid it, especially on high quality brands like Orbea where they really are worth every penny of their ordinary RRP and discounts only tend to come about as a result of situations like the current one. 
This is a short term solution to a short term problem which is likely to self-resolve once dealers have cleared their overstocks. 
Its worth considering where you purchase your ultra-discounted 2022 Orbea Rise from. 
Electric bikes are a specialist product which requires specialist support. The initial purchase of the bike is just the first step in your ebike journey. A company which sells most or all of their bikes at next to cost price will rarely have anything left in the pot to support them, if they manage to stay around at all. 
E-Bikeshop is a specialist in electric bikes and we've shipping bikes globally for more than 13 years and an Orbea dealer since 2018. All of its staff are industry experts in the products we sell and parts and spares are held in direct stock for almost anything a customer could need for ordinary maintenance and most repairs. 



Yet still, it Rises. 
Its by now well known that I'm a massive Orbea fan and I've been flicking between riding my road going Orbea Orca M20LTD and the Rise M10 for over 2 years now and its been a fantastic machine. One of the first off the production line at the back end of 2020, its seen a lot of action. 
Here it is half way up the Red at Queen Elizabeth Country Park, which I'm fortunate enough to live very near to;



Less aggressive and more risk averse than I was when I was younger and a bounced a bit better, its the perfect all rounder for those who like to ride super fast trails, carve out berms and whoop those on heavier bikes up the hills. 
With nothing more than normal routine maintenance, cleaning and making sure the drivetrain is kept clean and lubricated (very sandy in our part of the country), its performed faultlessly and I full expect it to continue that way for many years to come and with the spec of the M10 having been so good at the time of release, I don't expect it to get left behind as the model evolves either.


Here's what Orbea had to say when they launched the Orbea Rise models


Ready to buy your discounted 2022 Orbea Rise? 
Head over to our dedicated Orbea Rise E-Bikes page where you can find the full range of 2022 and 2023 Rise models to compare. 

If you're still stuck, feel free to Contact Us or Book an Appointment to come and see them. With more than 80 Rise model variants in physical stock at time of writing and over 20 in the showroom, you wont find a larger selection available for immediately delivery outside of Orbea's own factory!