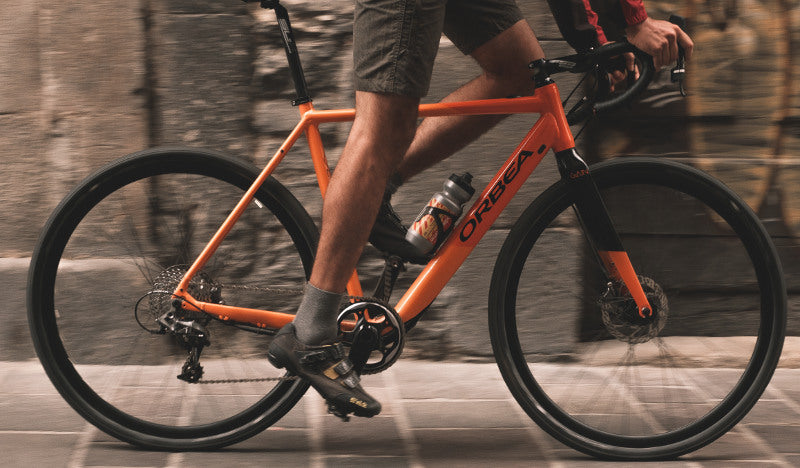 Electric Road Bike Review: Orbea Gain D10 eBike 2018
By Martin Brown |
Orbea Bikes loaned our chief eBike Technician, Jeremy (aka Roadie Master) an Orbea Gain D10 road electric bike to ride and review.
Read on for his full electric road bike review.
Where did it start?
On Thursday 2nd of November, I had the opportunity to test ride the new Orbea road e-bike. The Gain D10 bike looked great in a bright orange finish, including a Shimano Ultegra groupset, disc brakes & carbon clincher wheels. It was hard to tell at a glance that this was even an eBike.
Aside from the Gain D10 electric bike, there is also a base spec road version called the Gain D30 and an 'All Road' version with slightly wider cyclocross tyres called the Gain D20.
Setting up the Orbea Gain?
I set the Orbea Gain bike up, made sure it was fully charged, put my own pedals on and off I went. It is very easy to use as an ebike with no big obtrusive display on the handlebars. I just used my normal Garmin to record my data for the ride. To change assistance modes and see how much power is left in the battery you just press a button embedded into the top tube.
Different colours indicate you what mode you are in: White = Off, Green = Eco and Red = Boost. It then defaults to a colour that shows how much battery life you have left. You can also download an app to your phone in order to see more data. A quick tap reverts to show you what mode you are currently in and a double tap alternates the modes. The Orbea Gain is really easy to use.
How's the Orbea to ride?
I rode from our HQ over to my local cycling club for the weekly Thursday ride. When I turned up the Orbea Gain certainly got a few reactions from most people not even initially realising it was an ebike and most people just liked the general look of the road bike.
On the ride, the Gain D10 felt great, not too heavy at 13.75 Kg compared to other e-bikes that I have tried on the road. It flowed really well with no assistance when riding over 15 mph as this is the legal limit for e-bikes in the UK when the motor stops assisting you.
Riding the Gain over a longer period?
I covered 61 miles on the Orbea Gain in 3 hours 45 minutes with 4157 ft of climbing. The assistance from the motor really helped on the climbs and you could really feel it powering you forward although you didn't want to push it too hard or you lost the assistance over 15 mph.
As the e-bike is only "helping out", so to speak, I still burnt plenty of calories and had a heart rate score of 105 on Strava for a "Tough suffer score". I was still really working on the ride and really pushed hard on the climbs in order to see if I could beat my previous segment times.
The motor on the Orbea Gain is developed by a Spanish firm called eBikemotion. It detects your pedalling via a torque sensor in the rear hub. This then relays information to the motor and assists as necessary. The motor is tuned to offer the best performance between 10 – 15 mph. It's really quiet even when you are really working it hard on the climbs.
Riding in a group of Roadies?
As I was riding in a group of 10 other riders (on non-ebikes) we were pushing around 20 mph on the flat and I was easily keeping up without assistance as the Orbea Gain road bike flowed and didn't appear to have any drag from the hub motor.
On the downhills, the extra weight meant that the bike was very quick and handled very positively with the aid of the great Shimano disc brakes for slowing you down very quickly.
What about battery range?
When I finished the ride, after 61 miles, I still had 42% charge left on the Orbea ebike battery.
For me this is more than enough for a full days club ride, with a nice buffer left over should I wish to push both myself and the electric road bike further. For longer distances Orbea tells me, there is going to be a plug and play 'Add On' battery neatly hidden in a bottle/cage should you wish to use the Orbea Gain electric bike for more long distance touring. Interestingly it also has eyelets for full mudguards and a rack should you wish. Something missing from my current road bike!
Overall conclusion?
I was really impressed with the ride and handling and some flow of the Orbea Gain ebike. This bike is incredible for the money and it's definitely the future of fun. I have already got a few of my Clubmates on the list for a test ride.
I can't think of a reason not to buy one if you enjoy cycling and enjoy having fun on your bike in the outdoors. Whether you ride alone or in a group, the Orbea Gain electric bike is going to get you out riding more and covering more miles. #grintastic With thanks to Jeremy Ray for this write-up.
Want to learn more about this electric road bike? Click - Orbea Gain D10 Road eBike.